Narendra Divekar
---
THE HELICOPTER PILOT, Indian Army
Narendra Divekar, India, Lieutenant Colonel, served as a helicopter pilot in the Indian Army with over 20 years of military service and has participated in military operations against Pakistan in the Siachen Glacier, the world's highest battlefield as well as in the Kashmir Valley. He was awarded the Sena Medal as well as two Chief of the Army Staff Commendations, all for flying duties in active military operations.
Nathan Fain
---
THE COMPUTER HACKER
Nathan Fain, born in the USA, was part of a team of hackers working for major bank companies to test their systems. He currently lives in Berlin, Germany.
Yaoundé Mulamba Nkita
---
THE CHILD SOLDIER
Yaounde Mulamba Nkita, Congo, was born the son of a soldier in Mobuto's army in the Congo. At age 9, his school was attacked by Kabila's rebel army and Yaounde was drafted as a child soldier. During the war from 1998 to 2003, he fought in the jungles of the country and participated in the taking of Kinshasa. After the victory of Laurent Kabila, he was promoted to the presidential guard, from which he was demobilized at age 14. He then began working at Espace Massolo, an art center in Kinshasa. He has lived in Paris for ten years now, working on several projects across Europe.
Ulrich Pfaff
---
THE PEACE ACTIVIST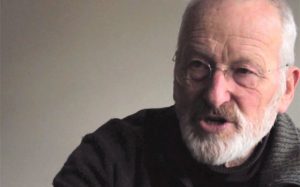 Ulrich Pfaff, Germany, holds a degree in theology and currently works as a peace worker in Oberndorf, a center of arms production. Before his return to Germany, he served as a development aid worker for Brot für die Welt in various African countries .
Shahzad Akbar
---
THE LAWYER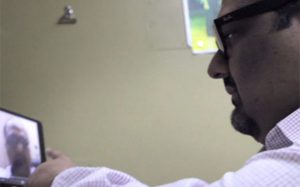 Shahzad Akbar, Pakistan, qualified as a barrister in England and enrolled as a practicing attorney with the Punjab Bar Council. He is a leading human rights lawyer in Islamabad. He represents the growing number of victims' families in Waziristan affected by drone strikes in Pakistani courts. Shahzad has been teaching human rights law at the Islamic International University in Islamabad intermittently since 2004.
UPDATE (Oct 1, 2016): After 6 years, the high court in Islamabad has finally ordered the Pakistani government to initiate criminal proceedings against the CIA.
Emmanuel Thaunay
---
THE SECURITY SYSTEMS DEVELOPER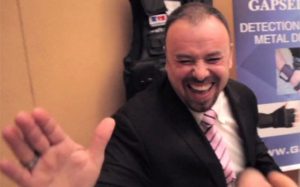 Emmanuel Thaunay, France, grew up in Corsica as the son of a military boot maker. A member of the Foreign Legion, he participated in several special missions abroad, including Lebanon and Algeria. For several years now he has been building up his own company, regularly visiting weapons fairs around the world. Alongside bullet-proof vests, metal-detecting gloves for explosives detection, and armoured vehicles, he also offers unmanned vehicles that can be operated by remote control using cameras and, if desired, ammunition.
Maurizio Gambarini
---
THE WAR PHOTOGRAPHER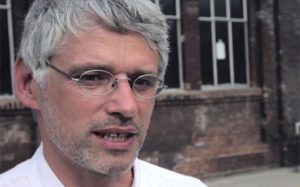 Maurizio Gambarini, Germany. After completing basic training with Fernspähkompanie 100 (Intelligence and Reconnaissance) in Braunschweig, Maurizio Gambarini worked as a photographer for several publications, including Bild, Kölner Express, and Focus. Since 2003, he has worked as a dpa photographer primarily in war and crisis zones: Congo, Afghanistan, Pakistan, Iraq, Angola, and Mali. Since 2012 he has published ca. 8,000 photographs and taken
around 80,000.
Wolfgang Ohlert
---
THE CHIEF PROTOCOL OFFICER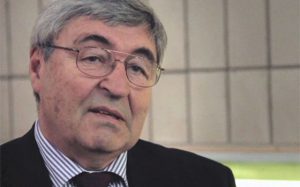 Wolfgang Ohlert, Germany, Oberstleutnant. During his active years as a professional soldier he was responsible for organizing the Munich Security Conference, formerly known as the Wehrkundetagung. Serving in the Balkan region in 1999, he experienced the concrete impact of international arms trading on site. As a protocol officer, he organized programs for high-ranking guests of the Defense Ministry. Tours of the arms industry in Germany were often part of the program.
Volker Herzog
---
THE SURGEON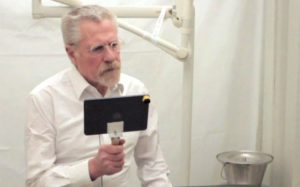 Volker Herzog, Germany. After training as a surgeon, Volker Herzog worked for 22 years as a surgeon at Evangelisches Hubertus Krankenhaus, Berlin-Zehlendorf. His first project as a war zone surgeon for Doctors Without Borders brought him to Sri Lanka in 1998; additional missions brought him to Ethiopia, Sudan, and Liberia, later followed by the Ivory Coast and Sierra Leone.
Abu Abdu al Homssi
---
THE SYRIAN REFUGEE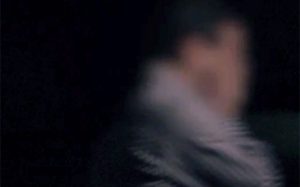 Abu Abdu al Homssi, Syria, was born in 1974 in the Bab Drid neighborhood in Homs and lived there his whole life until 2012 when he was forced to flee and leave his family behind. He appears under a pseudonym.
Irina Panibratowa
---
THE CAFETERIA MANAGER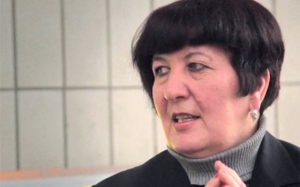 Irina Panibratowa, Russia, is a nutritional engineer. She worked from 1981-1992 in 15 underground cafeterias at the weapons factory Kirova near the city of Perm. In 1992, she moved to Germany, where she now works at Autostadt Wolfsburg in visitor services.
Marcel Gloor
---
THE FACTORY WORKER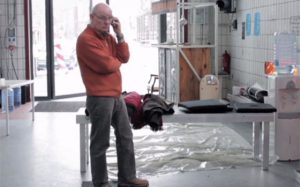 Marcel Gloor, Switzerland , born in Zug, in 1948, trained as a toolmaker from 1965 to 1969. After working as a toolmaker in the civilian realm until 1975, Gloor began training as a driller in the weaponry department, where he became responsible for tool making and training. Later he began making weapon parts and components. In 2013, Marcel Gloor went into early retirement .
Amir Yagel
---
THE ISRAELI SOLDIER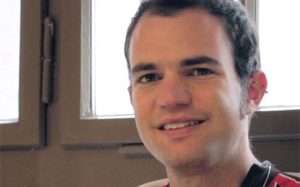 Amir Yagel, Israel, born in 1988 in Kibuttz Geshor. Served in the Israel Defense Forces IDF between 2007-2010. Completed his service in the rank of a sergeant.
Shooting Ourselves Shorts
---
Director/Editor: Anneli Stiberg
Footage from the archive of Christine Cynn and Rimini Protokoll
Camera: Martin Hampton, Christine Cynn
Music: Sam Britton & Will Worsley
Graphics: Jegor Souchko